PFA Conference 2017 themed on 'The Return Conundrum'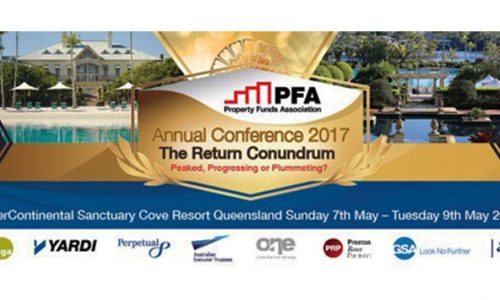 Greg Preston, Managing Director of Preston Rowe Paterson and Executive of the Property Funds Association (PFA) commented that yield compression remains a prevalent issue in the market place which is buoyed by the continuing low interest rate environment coupled with the tide of capital chasing investment grade for commercial, retail and industrial assets.
This year's PFA conference is taking place on the Gold Coast in Queensland from the 7th May to the 9th May and will address the central theme of 'The Return Conundrum' (Peaked, Progressing or Plummeting?). Greg commented that doing the quant maths on WACC based discount rates of the entities buying or selling to restructure and or recapitalise, and how this translates into initial yields and total returns, potentially creates an argument for the progressing logic. "I am looking forward to hearing the speakers' views on this at this time in the economic and property cycle", he said.
The conference has a great line up of industry stalwarts speaking including Shara Evans, Founder and CEO of Market Clarity; Carmel Hourigan, Head of Real Estate from AMP; Kevin Stanley, Property Strategy and Research from CBA; and Ray Sproats, founder of Fortius Group.
Preston Rowe Paterson is proud to be a sponsor of the conference for the third year running. Being a service provider, Preston Rowe Paterson is passionate about our investment valuation and capital markets advisory services as well as our property, asset and facilities management service offering. (If you would like to read more about our service offering you can visit www.prp.com.au.)
A number of key personnel from Preston Rowe Paterson's Sydney and Melbourne teams will be attending to join the debate on 'The Return Conundrum'. Attendees from our investment valuation and capital markets advisory teams include Greg Preston, Greg Rowe, Neal Ellis, Greg Sugars (CEO), Neal Smith and Andrew McPherson. Patrick Cooper (Sydney) and Keiran Fleming (Melbourne) will be carrying the flag for our property, asset and facilities management team.
Greg Preston said "It's a great opportunity for listed and unlisted REITs and fund managers to attend and participate in the discussion. It is also an opportunity to consider the benefits and merit of joining the PFA." Greg also commented that the PFA does considerable work through its issues and regulatory committee and that should be of significant interest and value to all REITs.
If you're interested in attending or becoming a member of the PFA, who also hold other great events such as master classes and networking events, you can visit the Property Funds Australia website http://www.propertyfunds.org.au See brochure on the following pages.
PFA-Conference-2017-Brochure